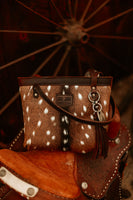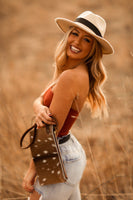 Jackson Place Collection
Jackson Place Collection leather bags are made with the highest quality leathers and hardware. Each is handcrafted and never mass produced. Every bag is one of a kind! 

The leather, unique to each bag, has its own range marks and brands. These distinct markings are naturally occurring and provide character that paints the natural beauty of the bag. The finish will age and patina with daily use and is part of the beauty of leather.
Characteristic to Jackson Place Collection are the antique solid brass cattle tags that come with each bag. We consider these "art pieces" for our Texas designed bags!

We hope you enjoy the journey with your new bag that shows your unique individuality and style! Thank you for your purchase and support.
Inspired and Handcrafted in Texas!
...Because Hides matter!😉